Jweel's Materials
Note : The Jweel service is now closed. Jweel partner for manufacturing was i.materialise.com.
All those materials and many others can be found on their website where you can upload Jweel's 3D files for manufacturing (Jweel tools allows you to download your creation as OBJ files for free).
Silver
Gold
Bronze
Brass
Titanium
Steel
---
Silver
The material is solid Sterling silver, made of 92.5% pure silver. It offers one of the best value for money in 3D printed jewels. The finish quality is fully comparable to a professional one.
Finish:
3 finishes are available:
Gloss: Magnet finish. Surface will not be as shiny as high gloss models.
High gloss (Premium): Very shiny and smooth surface. The piece of jewelry is hand polished in Belgium.
Sandblasted: Matt silver look that has a smooth and even surface finish
Antic : The jewelry is oxydized (blackened) before beeing hand polished. External parts are very smooth, hollow parts are darkers. This process increase the shape constrat and pattern visibility.

Technology
A wax model of your object is 3D-printed. A plaster mold is made out of this model, then the molten silver is poured in.
Design specifications
| | |
| --- | --- |
| Minimum wall thickness | 0.5mm |
| Minimum details | 0.3mm |
Gloss Silver (Standard)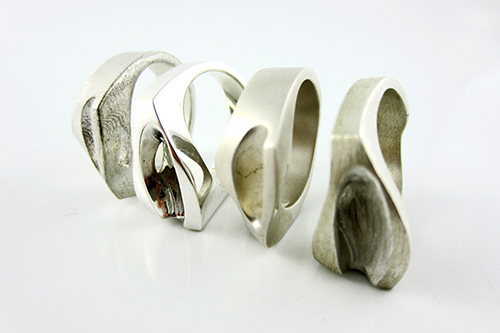 Gloss - High Gloss (Premium) - Sandblasted - Satin (not available)