Jweel's Materials
Silver
Gold
Bronze
Brass
Titanium
Steel
---
Silver
The material is solid Sterling silver, made of 92.5% pure silver. It offers one of the best value for money in 3D printed jewels. The finish quality is fully comparable to a professional one.
Finish:
3 finishes are available:
Gloss: Magnet finish. Surface will not be as shiny as high gloss models.
High gloss (Premium): Very shiny and smooth surface. The piece of jewelry is hand polished in Belgium.
Sandblasted: Matt silver look that has a smooth and even surface finish
Antic : The jewelry is oxydized (blackened) before beeing hand polished. External parts are very smooth, hollow parts are darkers. This process increase the shape constrat and pattern visibility.

Technology
A wax model of your object is 3D-printed. A plaster mold is made out of this model, then the molten silver is poured in.
Design specifications
| | |
| --- | --- |
| Minimum wall thickness | 0.5mm |
| Minimum details | 0.3mm |
Gloss Silver (Standard)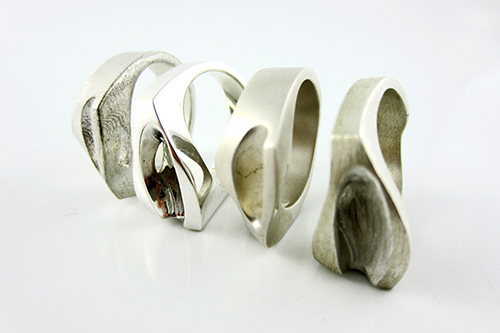 Gloss - High Gloss (Premium) - Sandblasted - Satin (not available)